Recruit Talented High School Students for Your University

:
Startschuss Abi
Recruit high-achieving German students for your Bachelor's programmes - at the university fair Startschuss Abi. About a third of all participants want to pursue a degree abroad.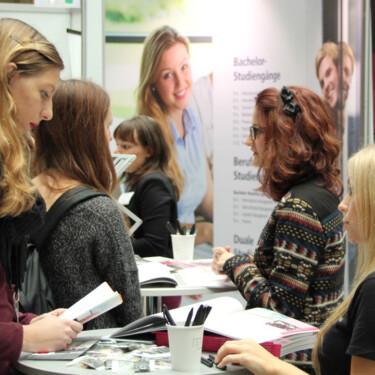 Meet well-prepared students
Quantity

∅ 400 participants

Target group

prospective Bachelor's students

Quality

Average GPA: 2,0 (German grading scale)

Preparation

attendees have to register and areprovided with information on your programmes before the event
Valuable contacts
High quality of participants
We prepare the students extensively for the event via different channels of communication (website, email, TikTok, WhatsApp etc.)
You get in touch with the students during your presentation, informal conversations and during our online-video events additionally in scheduled one-on-one interviews

Contact details of all registered participants
Agenda
10:00 am - 3:00 pm

presentations and networking

3:00 - 3:30 pm

final lectures of the consulting offers

*Online: one-on-one interviews, in from 10 am - 12 am
Your key benefits
High quality of attendees: Meet motivated, high-achieving German high school students.
All participants want to pursue a Bachelor's degree.
Get in touch with your target audience at the exhibition stand or in one-on-one interviews online and during a 20-minute presentation.
Participants are preregistered and well-informed about your undergraduate programmes (preparation via email, WhatsApp, call).
We provide you with the contact details of your interview candidates, the candidates you were in contact with and all participants who agreed on forwarding their contact details.
Price
Participation fee with a 20-minute presentation: 3,000 Euro per event
Discount for multiple event bookings (scaled according to the number of bookings per calendar year):

2 events: 5% discount
3 events: 7% discount
4 or more events: 10% discount
Further information and booking
Unser Netzwerk, unsere Kunden
e-fellows.net: ein schneller Überblick
Bachelor, Master, LL.M. oder MBA?
Alle Angebote für Hochschulen