Recruit Germany's top law students for your LL.M. program

:
LL.M. Day
The LL.M. Day is much more than a fair. At the LL.M. Day you can meet some of the best German law students and trainee lawyers to recruit them for your LL.M. programs. Candidates will visit your stand and engage in small group sessions for in-depth discussions.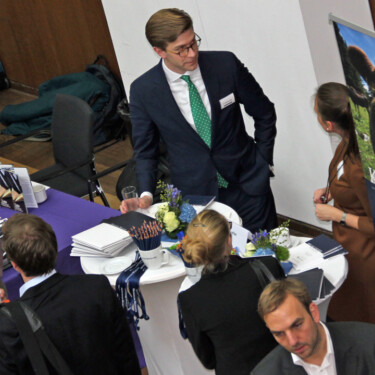 Bespoke target audience
Number of participants

at least 80 excellent candidates pre-selected from the best German law students

Target group

law students, postgraduates, legal trainees as well as fully qualified lawyers

Degree

approximately 40% of the participants have successfully completed the first state examination, the remaining ones are nearing completion

Quality

predominantly students with a grade point average of 9 or higher, some with 8 or higher (German grading system)
Provisional agenda
11.15 am - 12.15 pm

panel discussion about the LL.M. with law firms

A selection of our exhibitors

Cornell University, Fordham University School of Law, IE University, Northumbria University, Northwestern University, Peking University School of Transnational Law, Queen Mary University of London, Tel Aviv University, Texas A&M University School of Law, University of California Los Angeles - UCLA, University of East Anglia, University of Groningen, University of Miami, University of Pennsylvania, University of Southern California, University of Sydney, University of Virginia, Vanderbilt University
Further information
Praise for the LL.M. Day

Both exhibitors and students give the LL.M. Day excellent grades:

Exhibitors give the LL.M. Day an overall grade of 1.1 (on a scale of 1 to 5, with 1 being the best).
Our event management is rated 1.2 (on a scale of 1 to 5, with 1 being the best).
100% of the candidates would recommend the event to their fellow students.

(Data from the feedback survey for the LL.M. Day in Berlin 2020)
Number and quality of participants

We expect at least 60 students and young lawyers at the LL.M. Day. However, this number has been exceeded regularly in the past few years:

Munich 2023: 103 participants
Berlin 2023: 111 participants
Frankfurt 2022: 148 participants
Online January 2022: 140 participants
Online November 2021: 189 participants
Online March 2021: 177 participants
Online January 2021: 183 participants
Online 2020: 190 participants
Munich 2020: 51 participants (special circumstances two days before first COVID lockdown)
Berlin 2020: 104 participants (in spite of early COVID scare)
Frankfurt 2019: 161 participants
Munich 2019: 112 participants
Berlin 2019: 110 participants
Frankfurt 2018: 133 participants

At least 80 of the participants have an average grade of 9 or more points (German grading system) in their academic records and thus belong to the top 15% of German law students. The others usually have at least 8 points, which is still excellent. These students are very serious about doing an LL.M. abroad in the near future.

Participants have to apply for the LL.M. Day and are only admitted if they are one year or less removed from graduation. Younger students are only admitted if their grades are outstanding.
Staff or alumni can represent you at the LL.M. Day

Most schools send staff members to represent them at the LL.M. Day. They are mostly faculty or student recruiting officers. However, some schools decide to send German alumni instead. This helps to cut costs, especially for non-European schools. In fact, our feedback surveys tell us that many students enjoy talking to alumni at the event. If you are on a tight budget and still want your school to participate in the LL.M. Day, sending an alumnus or alumna is a great alternative to traveling to Germany yourself.
Differences between the events in Munich, Frankfurt, Berlin, Online

All three LL.M. Days follow the same agenda and host a similar number of candidates. Participants in Frankfurt are mostly from western or central Germany, while those in Munich tend to come from the south and those in Berlin from the north and east. All LL.M. Days receive very similar feedback from both law schools and students. We would suggest that you simply choose the one which fits your schedule best. Many schools come to more than one LL.M. Day to meet law students from all parts of Germany and to qualify for our discounts (see booking sheet).

The first Online LL.M. Day (due to COVID) had a slightly different structure, but saw more participants than we ever had before at an LL.M. Day.
Additional branding effect

Participation in the LL.M. Day is more than meeting excellent law students in Munich, Frankfurt, and Berlin. You are also part of our offline and online marketing efforts that reach out to the German law community as a whole. This will help schools to achieve better name recognition among law students and trainee lawyers in Germany. Recruiting at the event itself and branding during marketing go hand in hand:

Participating schools are listed on our event web pages. The LL.M. Day pages count about 20,000 views anually combined.
The LL.M. Day is advertised multiple times in our mailings and newsletters that go out to e-fellows.net scholarship holders and members.
Print materials such as posters and flyers are distributed to universities and student clubs. Print ads are published in law magazines.
Pictures from the LL.M. Day